After more than a decade of courtship, Jiajun & Michelle are finally tying the knot!
They have done what most couples would deem challenging, surviving a long distance relationship. Till today, the couple remains strongly connected despite being miles apart.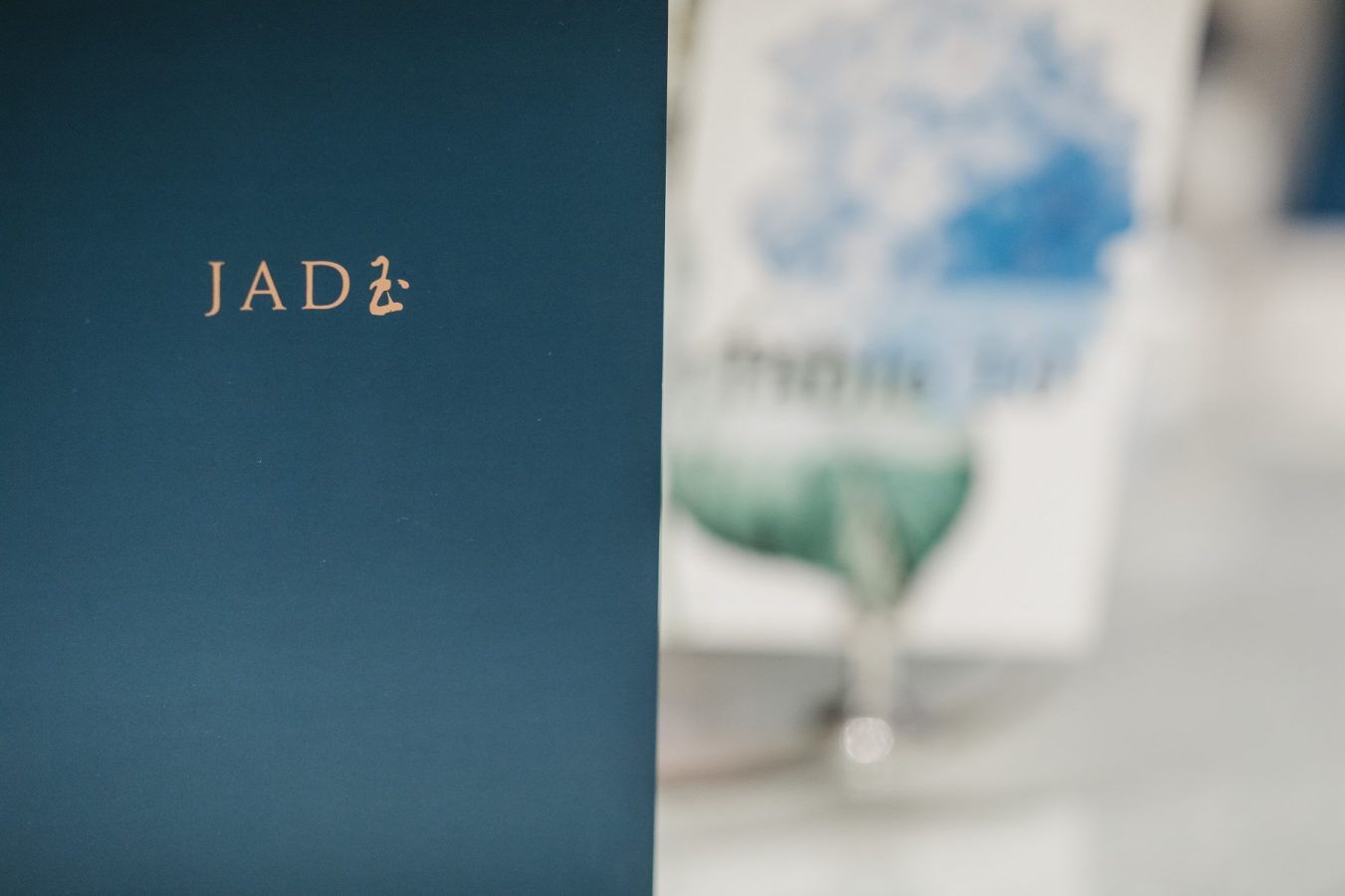 Jiajun proposed to Michelle in the most novel way (one we would never think of), and you could read more about that on the HerWorld Brides Luxe October 2018 issue. Jiajun basically presented Michelle with an offer she could not refuse so she had to say "Yes!".
Jiajun and Michelle have been together for so long that they're naturally very comfortable with each other. The ease between them rubbed off on us almost immediately and the wedding planning journey with them was not only smooth-sailing but also extremely enjoyable. They are very decisive and clear on what they want for their wedding, and that made our job so much smoother with quick elimination of unwanted items, and firm confirmations for items that they want.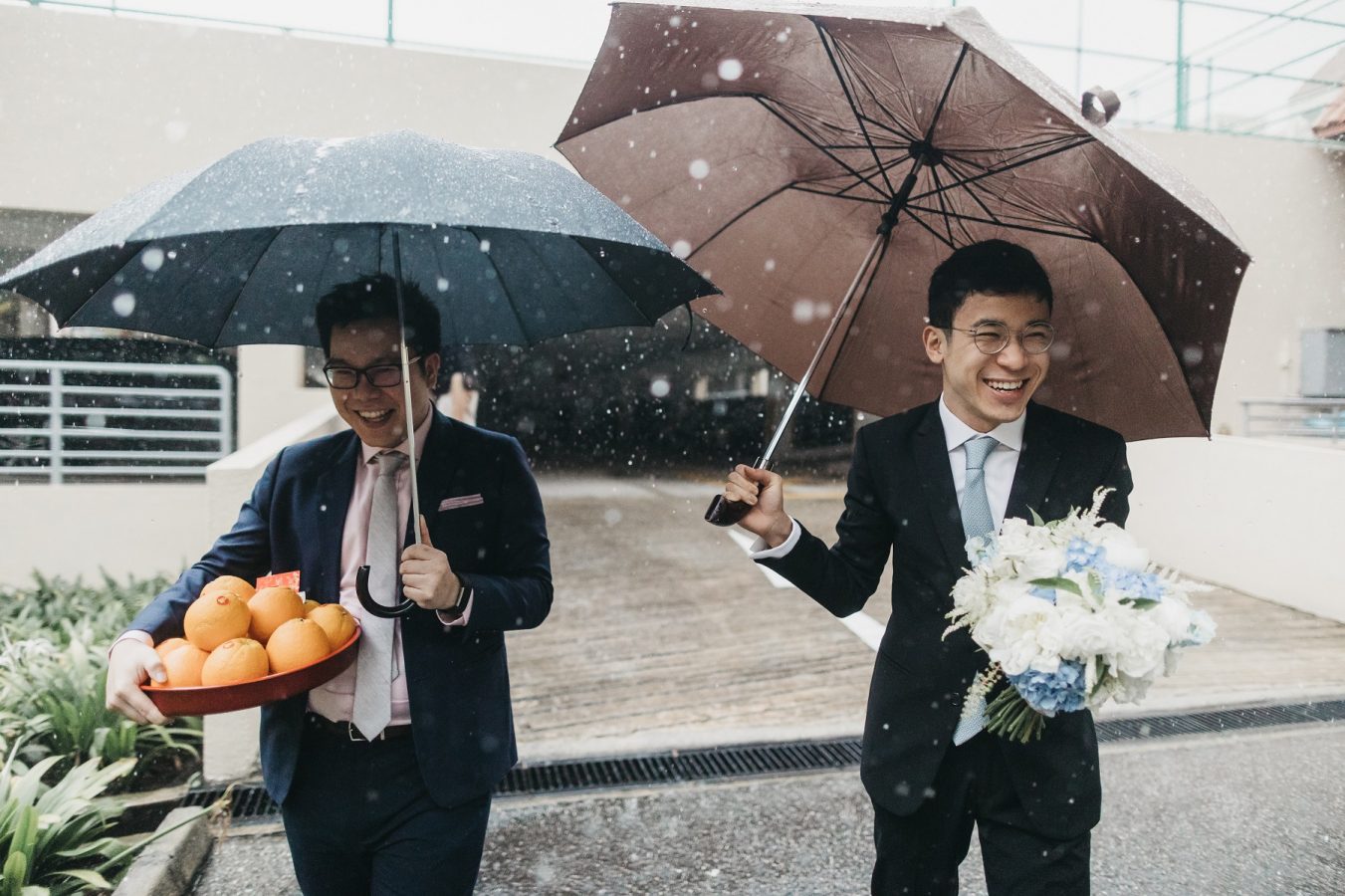 The wedding day, however, did not start off as smooth as we'd like it to be. Dark clouds threatened to jeopardize our plans and just before Jiajun stepped out of the bridal car at Michelle's home, it started to pour. One would think that the mood was dampened immediately. Jiajun and his groomsman, however, managed to laugh at the situation with an umbrella in one hand and a lovely bridal bouquet in the other, while we make our way to Michelle's home, all these while Yu Hsin the photographer skillfully snap away on his camera (also with an umbrella on one hand). The result was a memory of a lifetime for all of us and an amazing set of photos that made those heavy raindrops looked like beautiful snowflakes.
After the usual formalities, Jiajun is now granted permission to bring his bride home. At Jiajun's home, Michelle was received with opened arms by Jiajun's family. After the tea ceremony, Michelle and Jiajun even stole some time to enjoy a cup of coffee before we head to The Fullerton Hotel.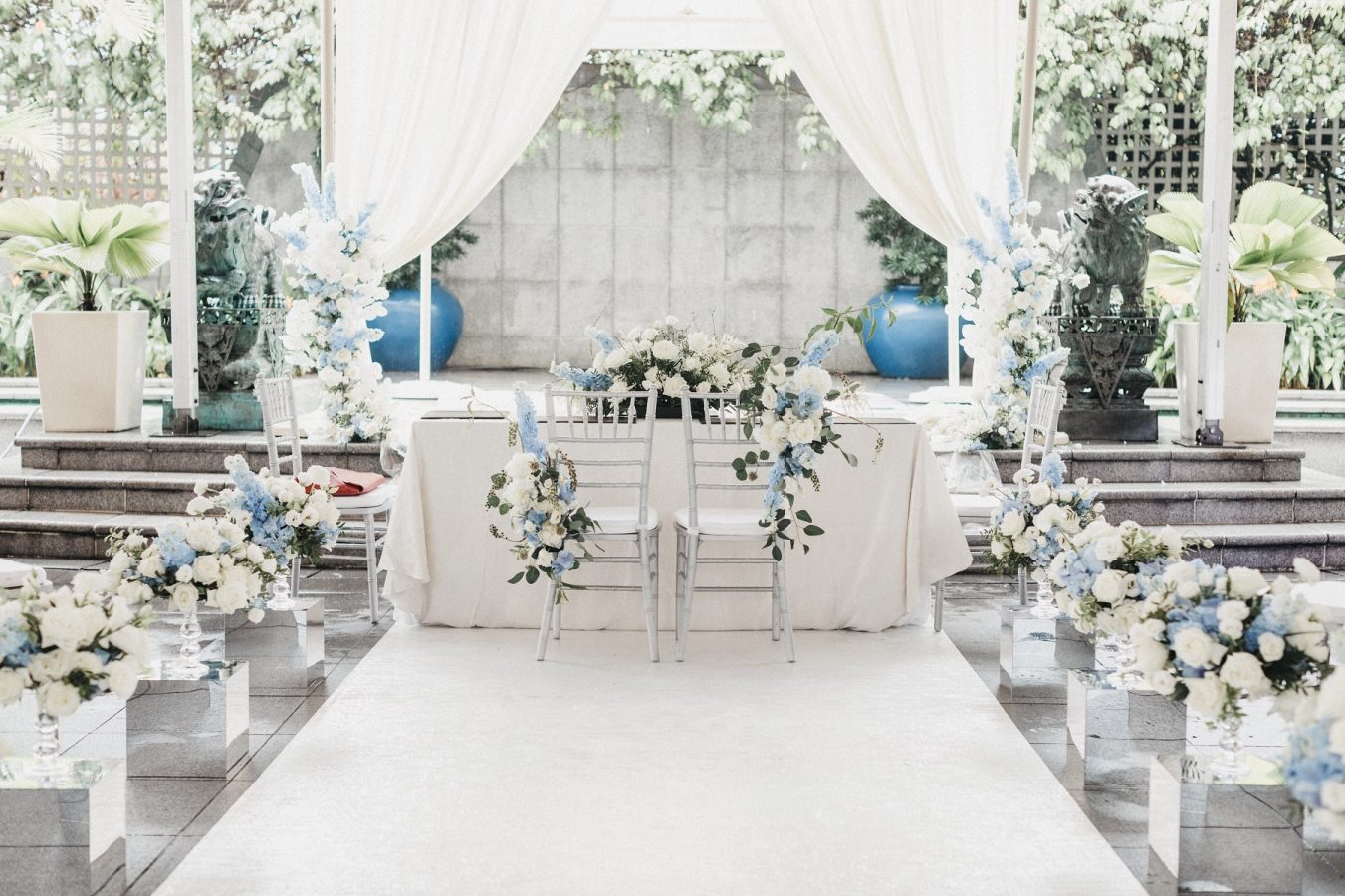 The couple's solemnization ceremony was set to take place later that afternoon at The Fullerton Hotel's East Garden, a partially sheltered location. Enroute to Jiajun's home, the couple jokingly asked if Weiwei, our colleague who is at the hotel overseeing the setup, is warm and dry while we were all drenched from the morning thunderstorm. The truth is, the venue set up was affected just as much because of the heavy downpour. Several decisions have to be made on the spot to rectify the situation. When we shared this with the couple, Jiajun's reply was "do whatever that needs to be done, we trust Weiwei". Jiajun and Michelle's unwavering trust in us is one of the main reasons why we love planning with them so much.
The wedding concept was heavily inspired by Michelle's favourite flower – the blue hydrangea. We carefully made use of this element to create a concept that remains classy and not too overpowering. The existing décor of the venue worked to our advantage by complementing our chosen colour scheme perfectly. The wedding day stationery also followed the same concept with the blue hydrangea taking centre stage for most of the stationery. In order to make sure that the hydrangea remains the main focus throughout, typography and font selection was chosen to be simple and formal.
The couple walked down the aisle together with their choice of march-in song – Stand by Me by Florence + The Machine. It was a tune that reflects the very first commitment they have set for each other – "the promise to be a true and loyal friend".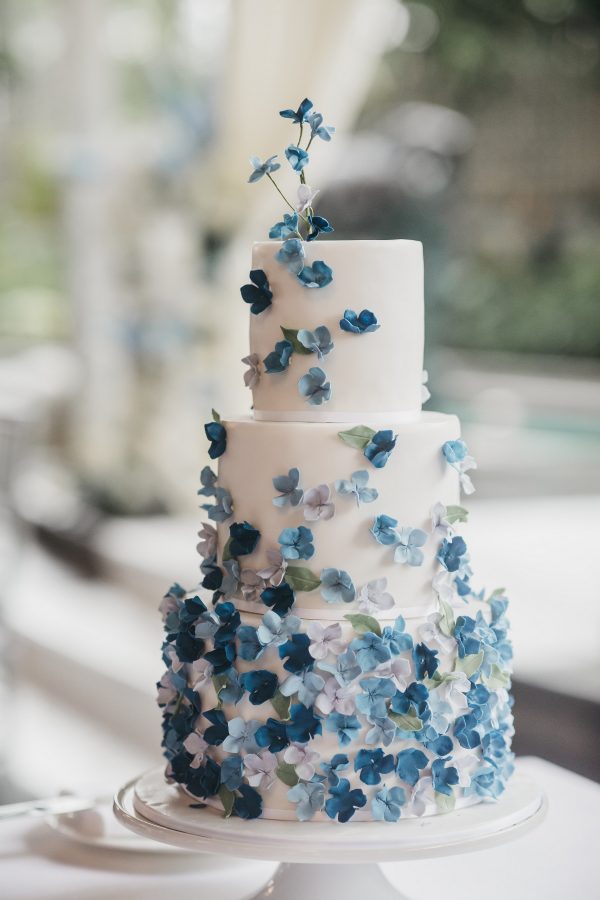 After the papers were signed, a custom wedding cake from Susucre was cut and served to guests during cocktail hour. The cake flavour and design was also a careful selection by Michelle. She liked how the petals of hydrangea can be incorporated on to the cake, and Annina from Susucre suggested to have the petals come to life with a 3D elevation of the petals at the very top tier. This simple touch really made all the difference. Because Michelle really love fruit cake, that became the natural flavour selection! Soon after guests enjoyed the cake, the very intimate dinner reception at Jade Restaurant.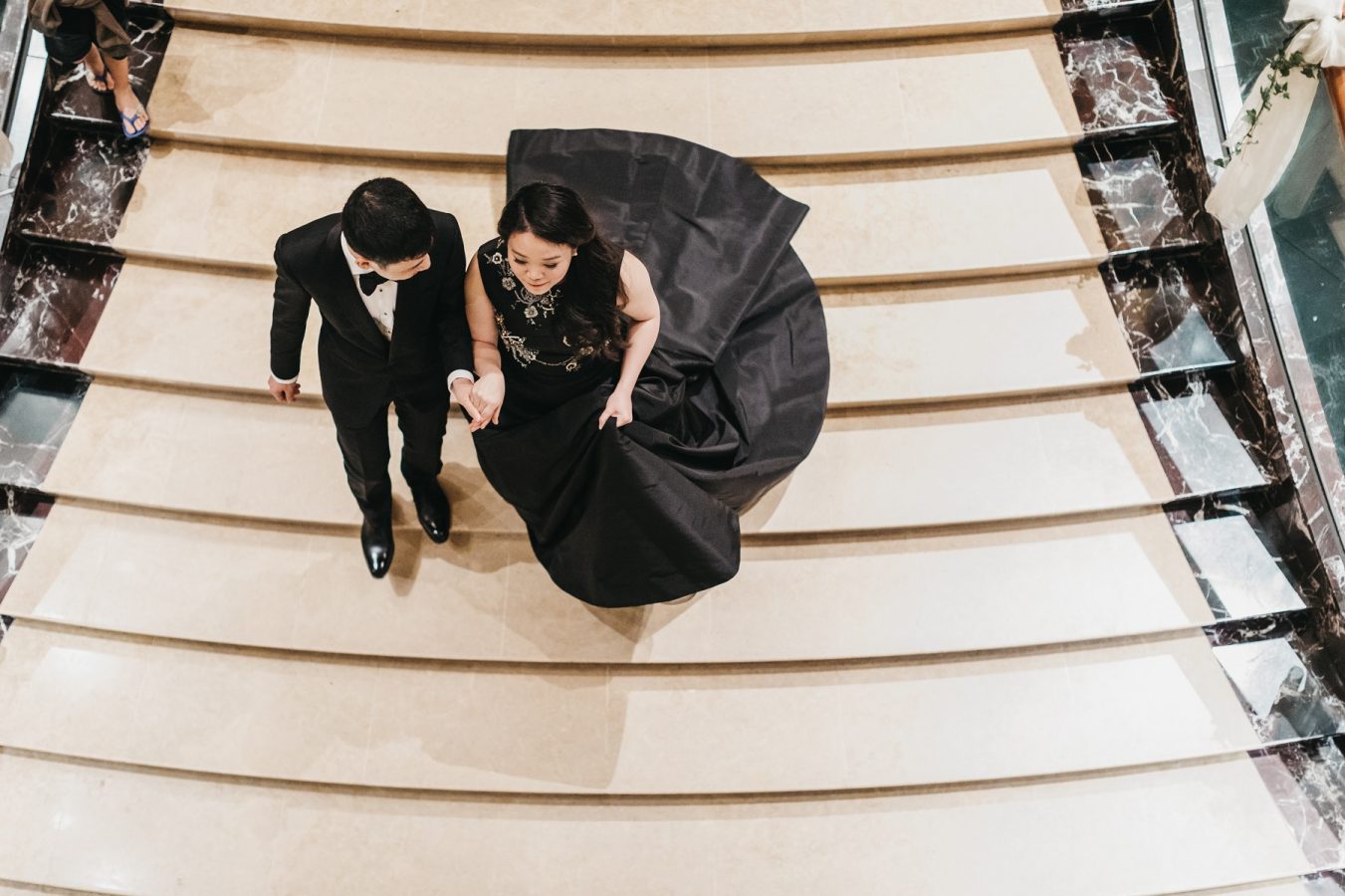 Michelle put on a black Oscar de la Renta dress which she comfortably walked around and took pictures in throughout dinner. The intimate group of guests were treated to several traditional cakes as wedding favours, wrapped to look like a mega huge white rabbit candy.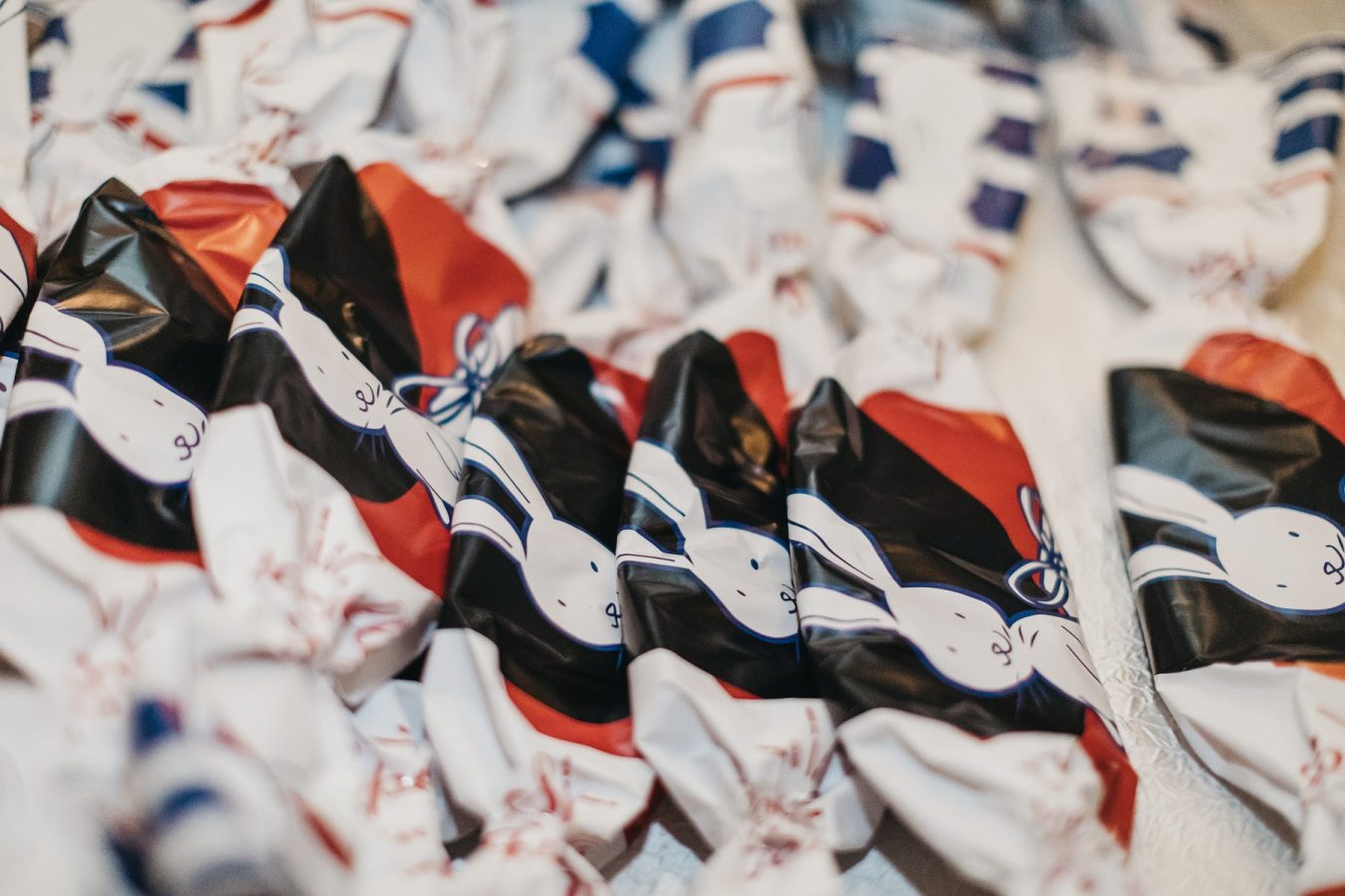 As the dinner came to a close, guests were invited to the upper levels of The Fullerton Hotel to continue the celebration. A table was reserved at The Lighthouse Rooftop Bar where some guests gathered for a while longer for more drinks – that was the kind of celebration that Jia Jun and Michelle wanted to have!
Wedding featured on Her World Brides Luxe, Oct 2018.
Wedding team:
Venue: Jade Restaurant at Fullerton Hotel | Photographer: Yu Hsin from Tinydot Photography | Hair and Makeup: Bobbie from The Make Up Room
Planning your wedding and keen to find out about our services? Fill out the form below and we'll be in touch!