It was meant to be a lovely intimate affair at Raffles Hotel witnessed in-person by close friends and family from all over the world. Such intimate celebrations always leave a deep impression on us and we were very much looking forward to this party of a lifetime for Akshay and Louise. While things did not turn out the way we had planned for, we were still left with memories that will last us for a long long time and also the second-half of their celebration to look forward to!
Weeks before their wedding on 20th June 2020, wedding planning took on a different meaning for us. We might as well have term it wedding "adapting" because we were constantly adjusting wedding plans to the ever-changing government measures that were announced almost daily.
Plans initially remained as is in the hope that the pandemic situation eases to allow for wedding celebrations to continue. Our hopes were dashed when the spike in new cases were announced day after day. Distancing measures were soon introduced, and we developed a plan to still carry on with the celebration but to cut the guest list by half. As borders started to close and countries go into lockdowns, the couple were not optimistic that Akshay's parents who are based in India would be able to attend the wedding. We then devised a plan to turn the one-day celebration into a split day one – the ceremony will continue as is, but the celebration will come at a safer time. It was not long before Singapore goes into its own version of a lockdown – the Circuit Breaker. This announcement once again threw all our plans into the air and we were no longer sure if the mini-wedding that we had envisioned was even possible. At such a trying time for everyone, it was not easy to get clarity on the rules that were in place. As idealistic as it sounds, we eventually went with the plan to maintain the split-day celebration arrangement and continue to have the solemnisation ceremony, this time to be held at the couple's home on 20th June with an even smaller group of guests in attendance, if at all possible.
Together with the couple, we joked about talking "spliting" even before they have gotten married. Even when uncertainty loomed, we were relieved that Akshay and Louise remained hopeful and idealistic about what was to come. This optimism was soon met with news that Singapore will be going into phased re-opening. There was no indication as to how long each Phase would take but the distinction between Phase 1 and 2 became clear to us – Phase 1 meant that no vendors were allowed to be present while Phase 2 would give a bit more room for vendors to join in the celebration. This set us up to plan for the two said scenarios. We went through the plans with the couple via several video calls to make sure they were comfortable with not having coordinators and vendors around. All the time while doing so, we were hoping relentlessly that we could be there with them as they exchange their vows.
By some divine intervention (or the power of Louise's optimistic and idealistic nature), just a few days before 20th June, we were met with news that Phase 2 would begin on the 19th of June! We were so surprised, and we have to admit we felt goose bumps on our arms in that instant! We quickly set our Phase 2 plan into motion.
Here's how we made it work:
We have visited the couple's home for meetings pre-covid, and their dining area was perfect for the solemnization ceremony, with ample space and daylight seeping through.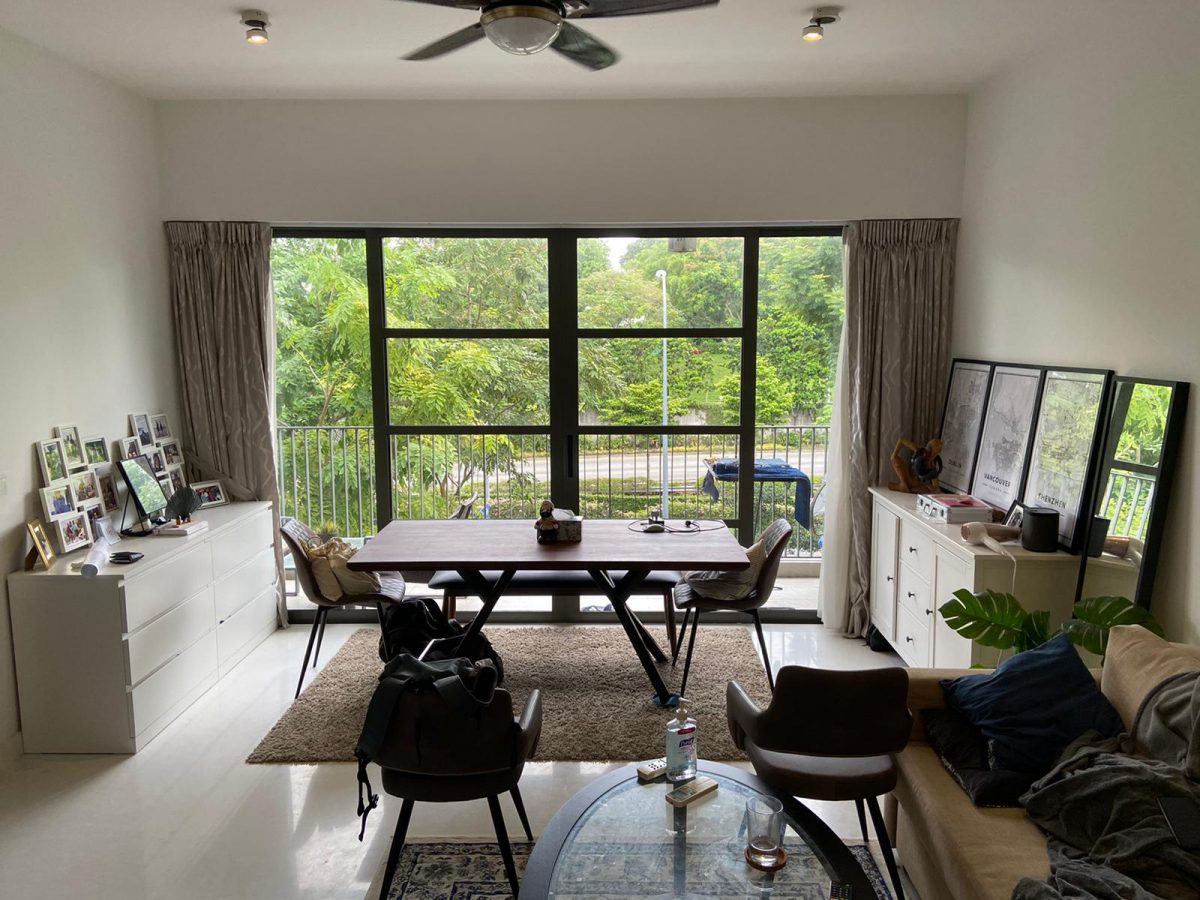 Med Karlek Inc styled the area with the following concept, allowing depth in the décor.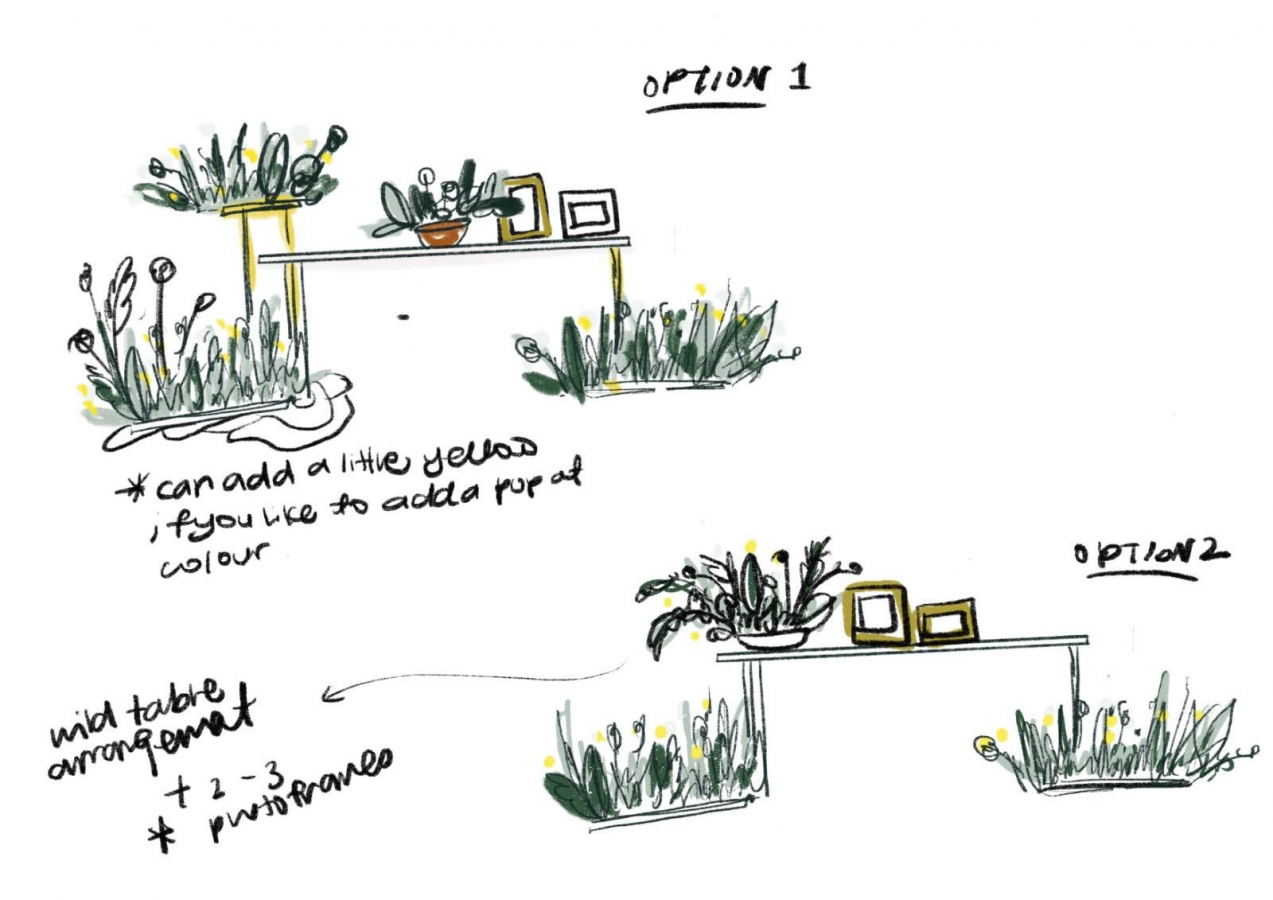 Akshay and Louise's nuptial is a cross-cultural one. Besides Akshay's family who are in India, the couple also have many close friends based all over the globe. It is therefore important to involve all of them in such a momentous event for the couple. With travel restrictions, the celebrations had to be largely adaptive, and we really have to thank Zoom for existing!
Days leading up to the wedding, we were in various meetings and test calls to perfect the Zoom live stream for all their guests, who were streaming in from different parts of the world.
On the wedding day, we had Herlina over at the couple's house coordinating the flow, while Weiwei and Sophia coordinated the technical aspects from home.
Coordinating a virtual wedding off-site is quite similar to coordinating a wedding reception in a ballroom. Although there were physical distances amongst the team members, we stayed connected through our phones that became our usual walkie-talkies. The entire team was in constant contact with each other so we can coordinate our actions, provide cues and react to any situations.
One big difference would be the lack of an AVL Team unlike in an actual ballroom reception, where we have a team of AVL professionals each in charge of lightings, sound and visuals, respectively. You would think that a virtual wedding would be simple, but our setup is as complicated as any on-site wedding.
Here's one of our AV setup when we coordinated from home:
Here's Herlina onsite with the couple, coordinating their AV setup physically.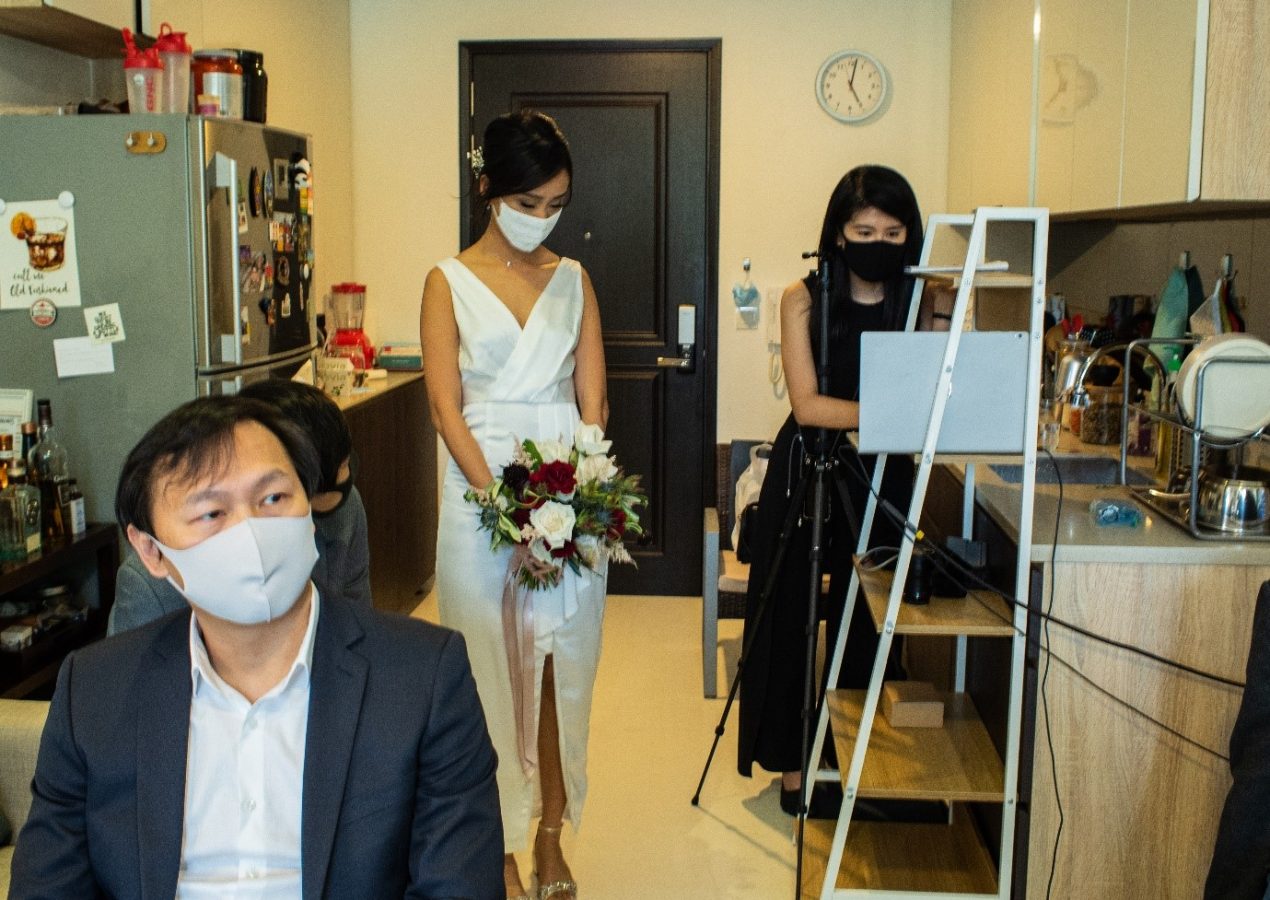 It wasn't just the couple who went through this for the first time. It was the same for us too and we will forever be grateful to Akshay and Louise for trusting us throughout the entire process and for being such a positive and understanding pair. We couldn't be any happier now that they are legally married. We look forward to the rest of the planning process for their dinner celebration that will take place hopefully sooner than later!
Congratulations once again, Akshay & Louise!
Wedding Team:
Photographer: Couple's friend | Hair & Makeup: Linda Lino Makeup | Florist: Floral Magic | Styling: Med Karlek Inc | Wedding Planner: Chere Weddings
Planning your wedding and keen to find out about our services? Fill out the form below and we'll be in touch!