There is a common question that goes "Do you live to eat, or do you eat to live?" With typical hectic lifestyles, people would usually answer the latter. However, this love story about to be told, is about a couple who would willingly give everything up (other than their love for each other) for – you guessed it – food!
With Jonathan from Australia and Nive from Singapore, the two met in 2011, a year into Nive's university studies in Perth, Australia. As cliché as it sounds, we could almost say it was fate that brought them together – two individuals with diverse cultures and races, what were the odds?
We believe it was their whacky selves and love for food which attracted them to each other, as after a year on the 6th of March 2012, Jonathan and Nive officially became a couple at the grounds of Hilarys Boat Harbour, where Jonathan asked Nive to be his girlfriend.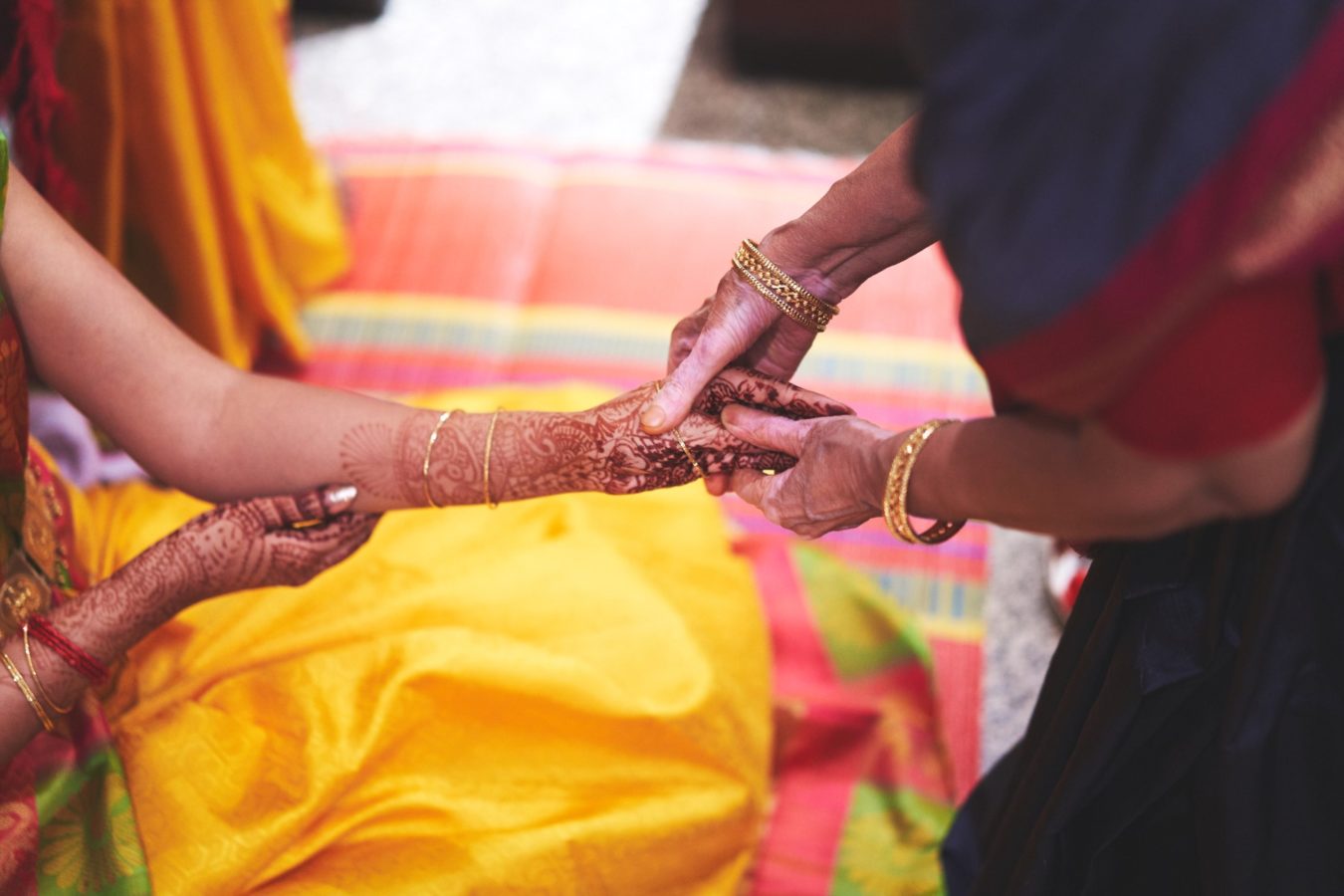 Fast forward five years later at the same exact location, Jonathan asked Nive to marry him, to be his partner for a lifetime. Jonathan was usually a man of few words and an engineer with limited vocabulary, but with his love for Nive, he prepared a whole speech for her during his proposal, successfully winning Nive's heart over.
Making the decision to hold their wedding in Singapore meant that much work was to be done. Being based in Australia, Jonathan and Nive were blessed to get the help of their family members to assist in the wedding planning process together with us, with the couple expressing their opinions through conference calls scheduled in the evenings.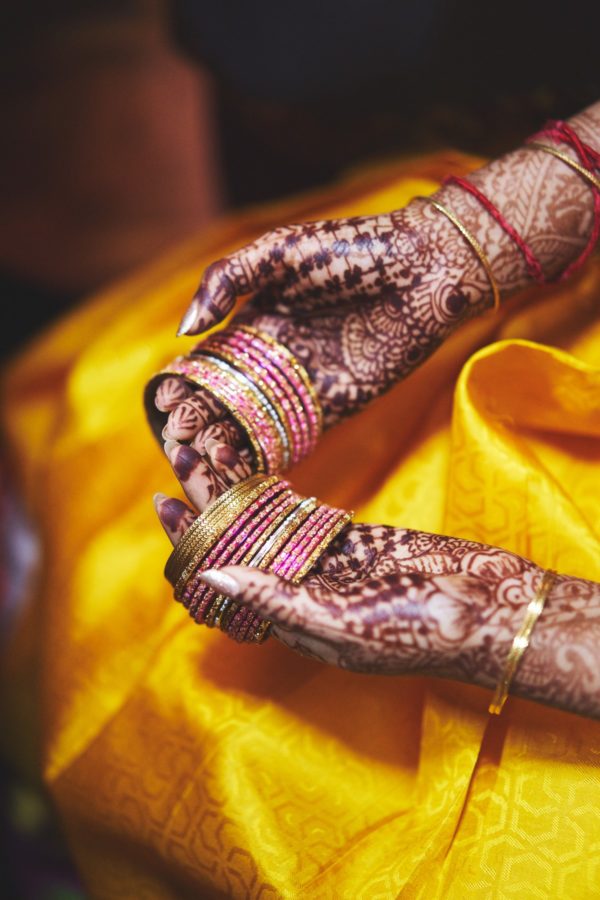 After a few months of preparation, Jonathan and Nive's dream wedding came alive on the 14th of July, 2018. It was a wedding witnessed by a unique blend of cultures and diversities, having an entourage which consisted of 13 bridesmaid and 3 groomsmen flying in from various parts of the world to grace their wedding.
Their wedding day was kick started as a lively affair, with everyone – bridesmaids and family members – gathered at Nive's home early in the morning. First to arrive was the team from The Makeup Room, who ensured everyone was looking their best for the rest of the day to come. Completing their look were saree tying ladies, assisting some of the bridesmaids who were wearing saris for the first time. Compared to Nive's side, however, Jonathan and his groomsmen were having a much more relaxing and less hectic start to the day.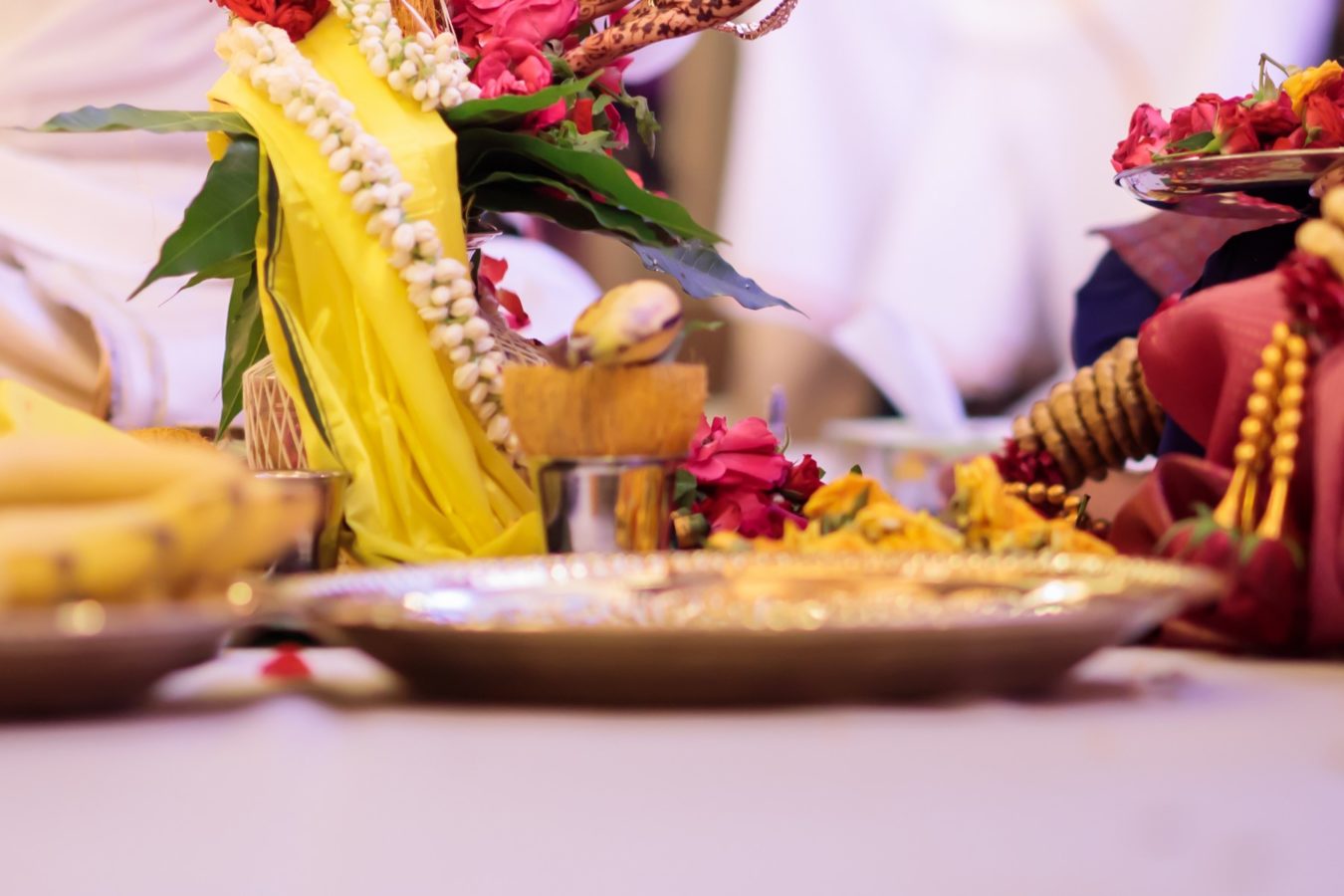 As the night drew closer, the ballroom at Serangoon Gardens Country Club was prepared to welcome guests as well as the soon-to-be newly-weds. Aisles were adorned with delicate florals of pink and white, placed on gold pedestals which extruded a grand look altogether. To complete the picture, tables were lined with cutleries and floral centerpieces, all-ready for the joyous occasion at night.
Jonathan and Nive's wedding begun with a Traditional Religious Indian Ceremony, performed to signify the binding of both individual's life as one. In most cases, ceremonies like these take place within temples. However, the couple was lucky enough to have their family, who managed to invite the priest over to the venue to grace their wedding.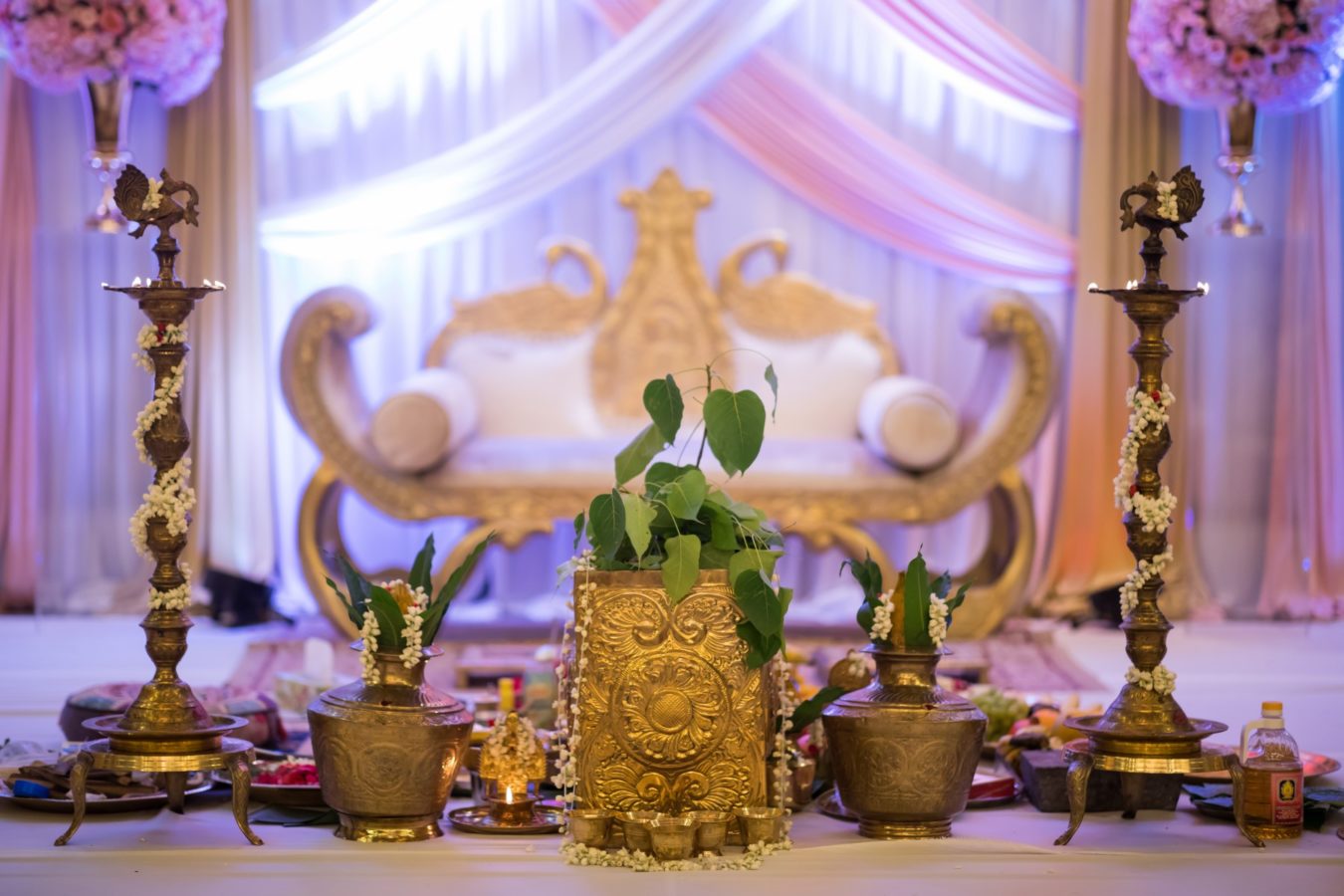 The couple were not the only lucky ones – us being unfamiliar with such traditional ceremonies, we were given the chance to assist the priest in preparing items required for the ceremony as well as for the overall set up. It was definitely an eye-opening experience for the team, having been able to witness a process so sacred and meaningful.
After the traditional ceremony, the couple proceeded with the official signing of marriage certificates. Witnesses and guests were touched to tears, as Jonathan and Nive said their heartfelt vows to one another: "To have and to hold, from this day forwards, for better, for worse. For richer, or for poorer, in sickness and in health, to love and to cherish always, till death do us part, even after too much Old Chang Kee."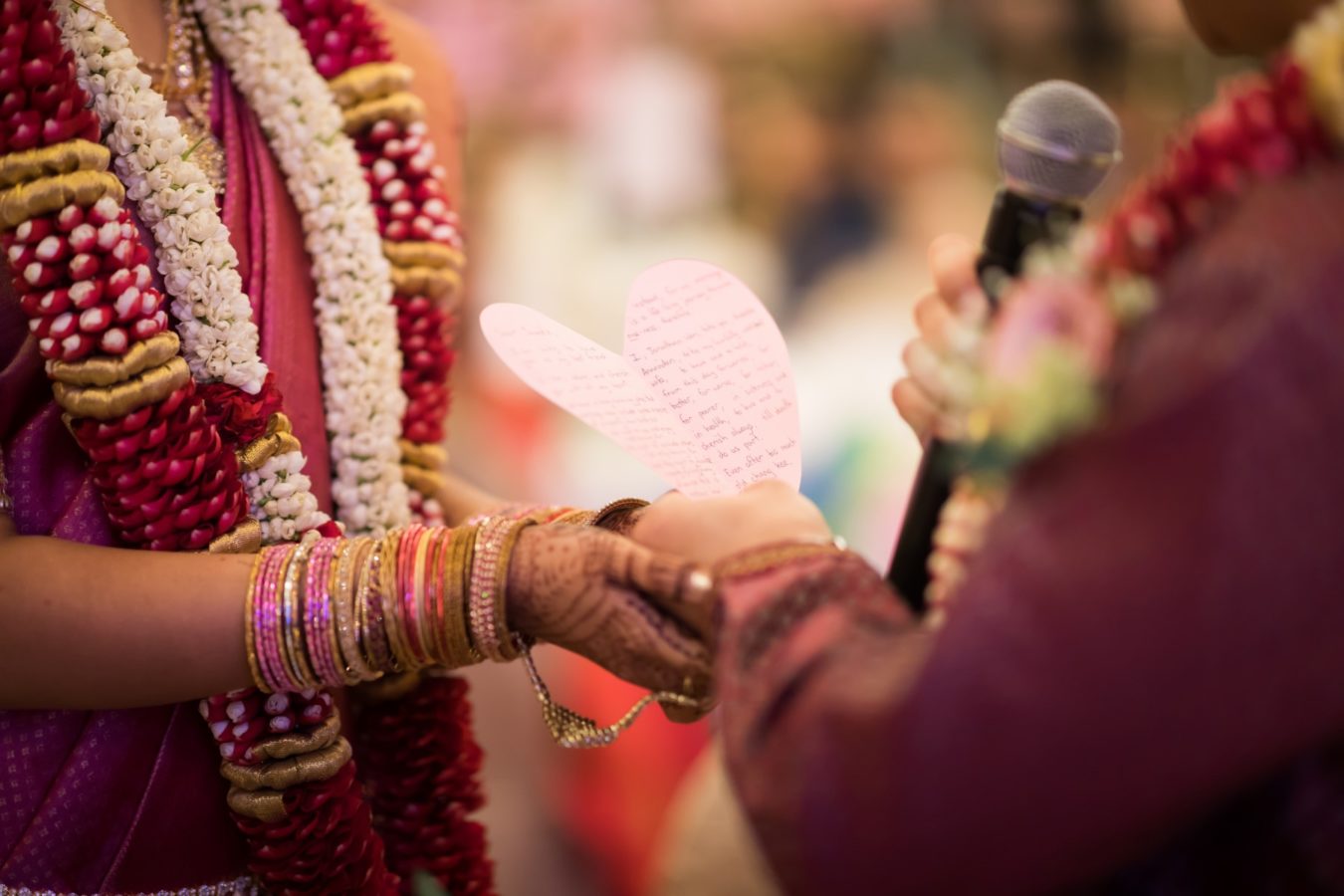 As the officiant pronounced Jonathan and Nive as man and wife, it marked the start of their new journey together as individuals who would stay by each other's side, no matter in rain, or shine.
Well wishes were then given by guests whom the couple held closest to their hearts, namely Jonathan's father, Nive's sister, and her childhood friends. These well wishes revealed embarrassing stories of young Jonathan and Nive as well as things that happened during early dating days, bringing much laughter amongst the crowd.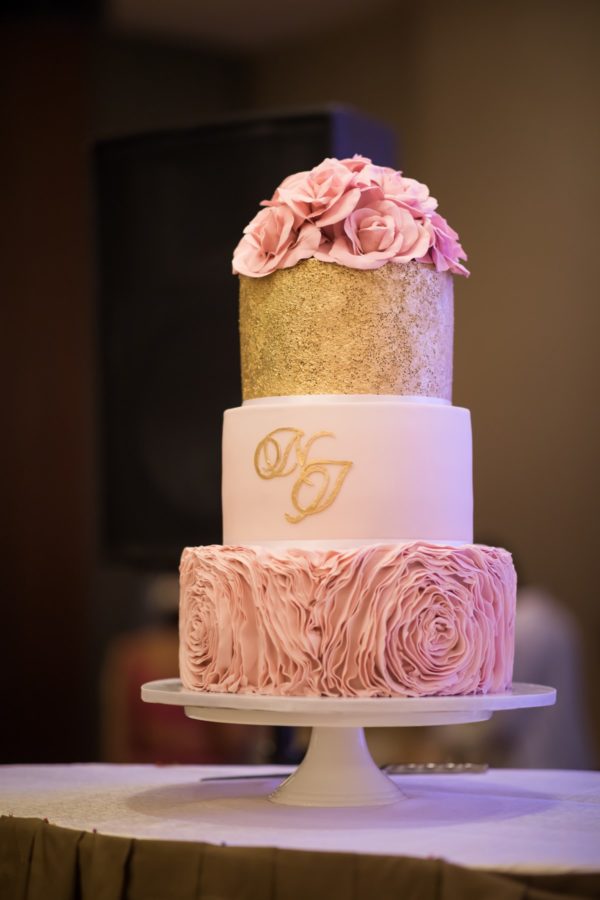 After the heartfelt sharing session, the couple was invited on stage to start-off the performances for the night with a first dance. Together, they moved step by step to Ed Sheeran's "Thinking out loud" on stage that involved an Indian twist, making it a choreography that belonged to only the couple.
Following the couple was the bridal party, who gave every bit of their effort in putting up an exciting dance performance for the guests and the couple. Each being in different parts of the world, the bridal party did not let this stop them from dedicating a performance to the couple. Instead, they practiced the dance through shared videos and communicated with one another online, successfully putting up an exciting finale performance that showcased the rich tradition and energy of an Indian wedding.
The wedding of Jonathan and Nive was one that showed us love can do all wonders – it managed to bring together two groups of people not only from different parts of the world, but also with such distinct cultures and traditions. It was only with love that everyone was able to understand the significance of different beliefs and traditions unfamiliar to one, to compromise and respect one another.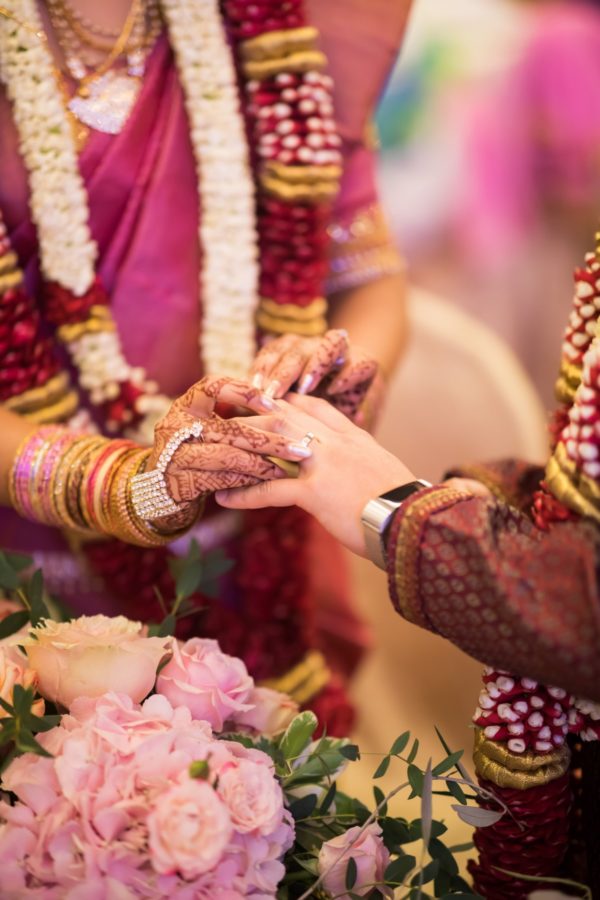 If we were to point out something memorable from the wedding, it would be this phrase as said by Jonathan's father during his speech: "I'm sure all of you would agree with me, that together, they will flourish, and create, the one happy family." We wish for nothing but the best to Jonathan and Nive, that they will be blessed with an abundance of love, joy, laughter, and most importantly, food.
Planning your wedding and keen to find out about our services? Fill out the form below and we'll be in touch!