When a baby is born, the world greets them with an array of gifts – the ability to experience this world for themselves, to unravel the unknown, to satiate their curious little minds – the list almost never ends. The biggest gift, however, would be the many milestones they meet with the people they love as their limbs get stronger, and their horizons drawn broader.
Birthdays are one of the most commonly celebrated occasions around the world. There are many different takes and reasons on why we celebrate birthdays – it may be a chance for friends and families come together, to receive gifts you may (or may not) wished to have, etc, etc. While we bring the status of birthdays up high and above, we can say that first birthdays are one of the most important milestones someone attains, as they take their initial steps into this world.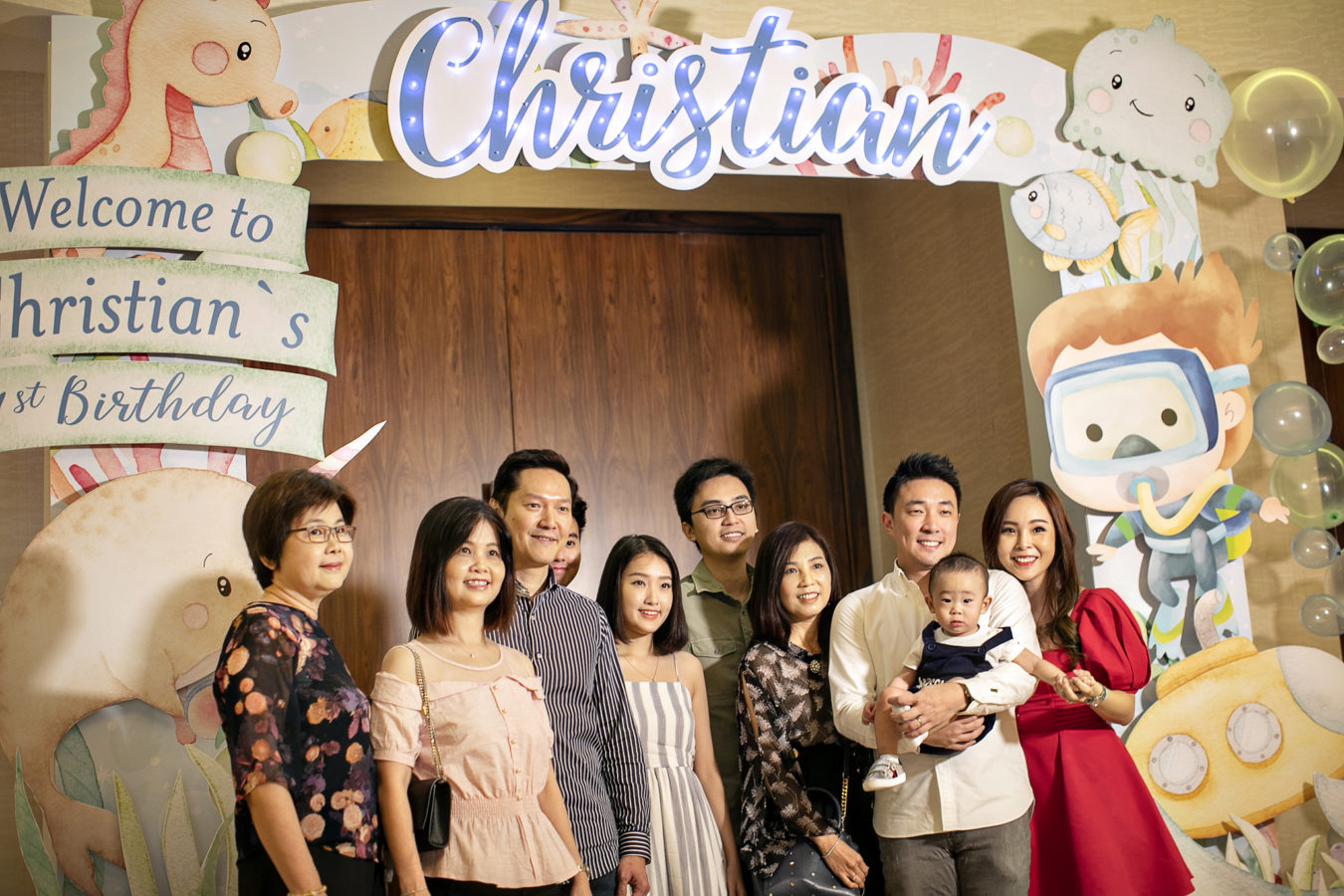 We've seen Andy and WanTing meet many of their life's biggest milestones throughout these years – from WanTing's 30th birthday celebration, to their suspense-filled baby gender reveal party – and here we are now, yet again given the honour to celebrate the beginning of their first born Christian's exciting life ahead.
On the 1st of March 2020, The Great Room of W Singapore was turned into the vast and majestic ocean, closely mimicking the theme of "Under the sea". Guests were greeted by an intricately designed entrance structure filled with adorable baby sea animals, a little submarine and also a young boy donned with a mini scuba diver's suit.
It being a significant celebration, Andy and WanTing brought Christian on a birthday photo shoot before this very special day. Photos taken were hung upon a fishnet, a part of the many props used to decorate the photo album table for the celebration such as antique brown boxes, seashells and candles.
The ballroom had an open concept, which allowed guests to view all that was happening within a glance. White round tables topped with translucent balloons of white and blue were used as table centerpieces, resembling bubbles formed under the deep blue sea. This allowed guests to fully immerse themselves within the theme of the party, as they tucked into the sumptuous buffet spread.
Let's move on to the highly anticipated segment of parties – games and activities! As guests brought their children towards the front of the ballroom, we could hear them squealing with excitement as they set their sights on the activities set up ahead, patiently waiting for the fun to begin. One of the more popular "attractions" of this party would have to be the mini ball pit, a padded pool filled with softballs of different colors. Children began to bounce and hop around as they dived into the pit, which included a mini slide. Their excitement could definitely be felt by those around them as slowly without knowing, a mini queue was formed behind the slide – how adorable!
Children are born to be curious creatures, and this could be seen with Christian and his playmates sitting in a straight line, all looking nowhere but within the pool of colourful softballs. They must be wondering: "How great would it be for me to finally be able to plunge into the pool! Could there be treasures waiting for me underneath? Or maybe toys which I've always wished to have? Who knows!"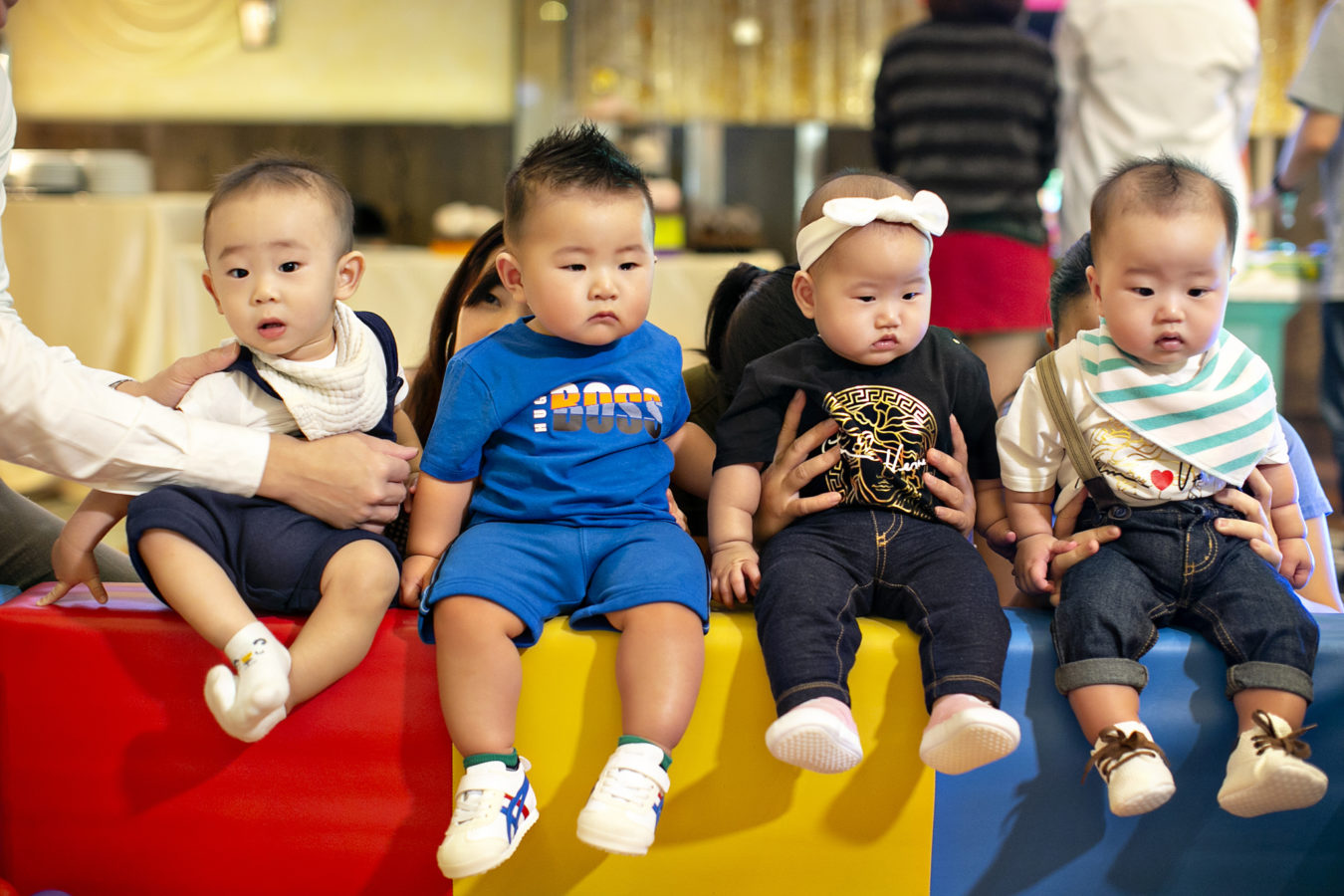 Other than the mini ball pit, there were also a bouncy castle with an interior of waves and sea animals. It was designed to simulate the feeling of being under the sea, giving kids a chance to experience what it would be like to be beneath the deep blue ocean.
"All aboard the train!" – how could we forget about the mini train ride at the party as well! It was a perfect ride for the kids and also adults, as it brought them round and round, taking them for a ride within the grand ballroom.
To increase the fun-o-meter of this party, there were also arcade machines such as the commonly seen" Whack-a-mole" but instead frog version, and claw machines filled with sharks and a variety of other sea animal plush toys at the ballroom. They were a hit for both the young and old, as everyone tried their hand at the games, hoping for a chance to bring a memorable souvenir back with them, something to remind them of all the memories created within that one precious day.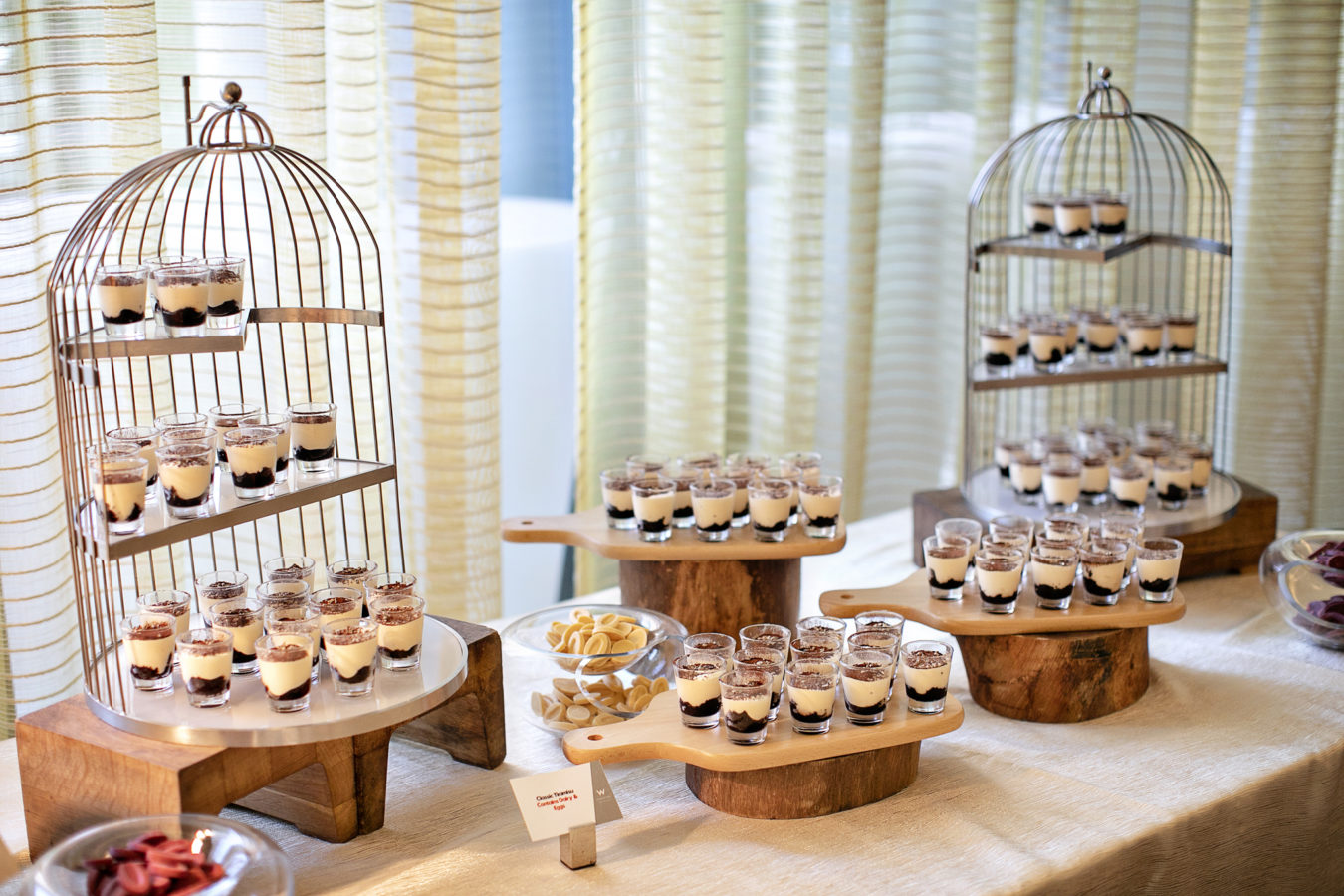 A party is never complete without food – from a well thought-out buffet suitable for all such as fries, sliders and donuts, to a frozen yogurt station with customizable toppings by Sogurt and a DIY bubble tea booth by the very popular Playmade, who creates unique pearl flavours from scratch – guests filled their plates with all these delicious goodies, occupying their tummies with contentment and satisfaction.
Little ones are always thrilled to see cartoon characters from their favourite television shows come alive. We were able to turn their dreams into reality, as a blue shark mascot appeared before their eyes. Their immediate reactions were to reach towards the mascot as soon as it came into their sight, filling their hearts with nothing but exhilaration and zeal. Lead by professional talents – one dressed like an elegant blue mermaid and the other an adorable octopus – everyone danced along to the beat of the popular song "Baby shark" as it played in the background.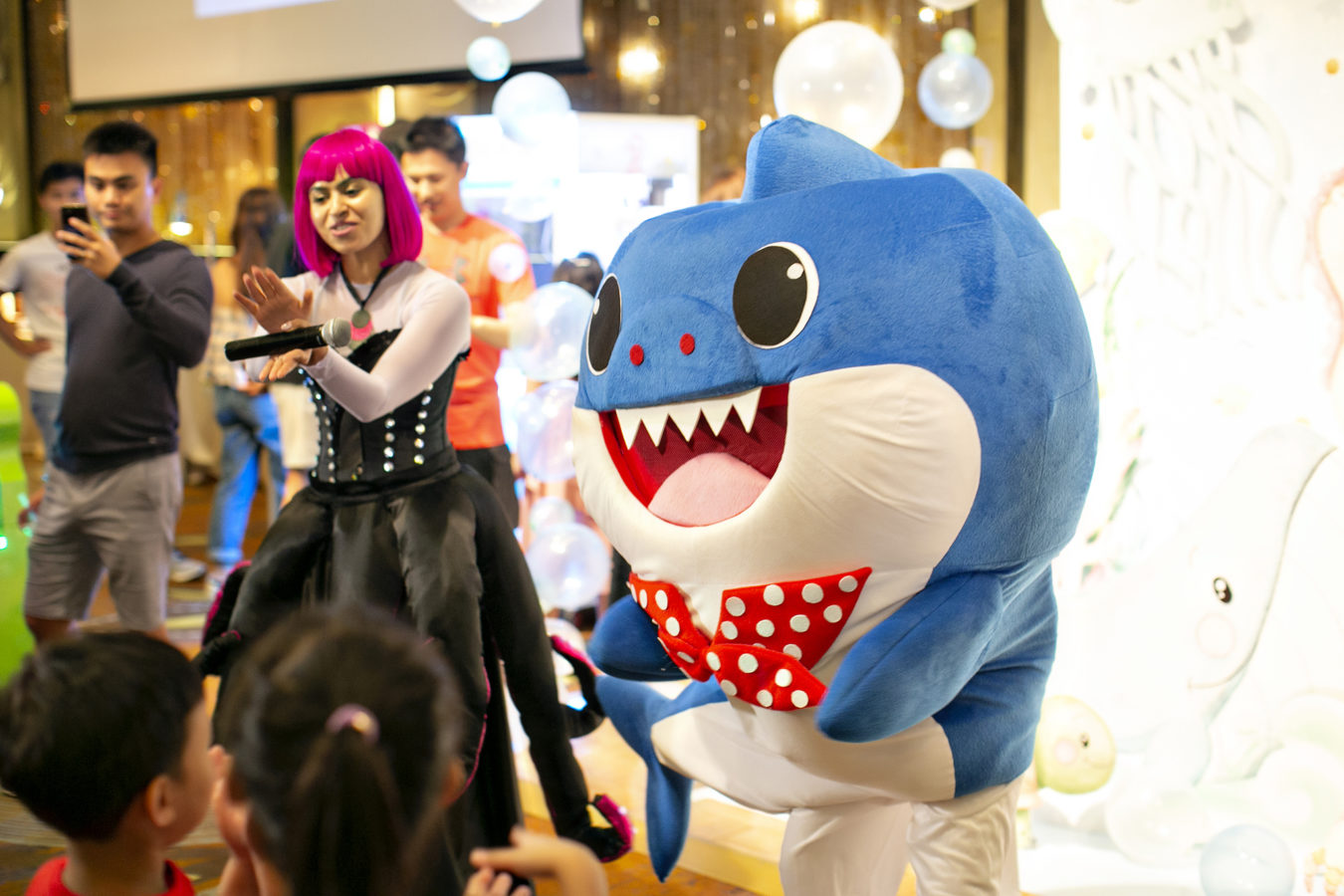 Coming to the main segment of the celebration, the reason to why everyone was gathered there that day – the cake cutting ceremony. Dressed in a dainty black Moschino playsuit alongside a white t-shirt underneath, Christian stood in front of a baby blue backdrop with his name shining in sparkling blue lights, along with little sea animals and a little boy in his scuba diver suit. We believe it signified Andy and WanTing's hopes for him to grow to be a wild and free child, an adventurous explorer with little to no worries in life, and a continuation to having curiosity for the unknown.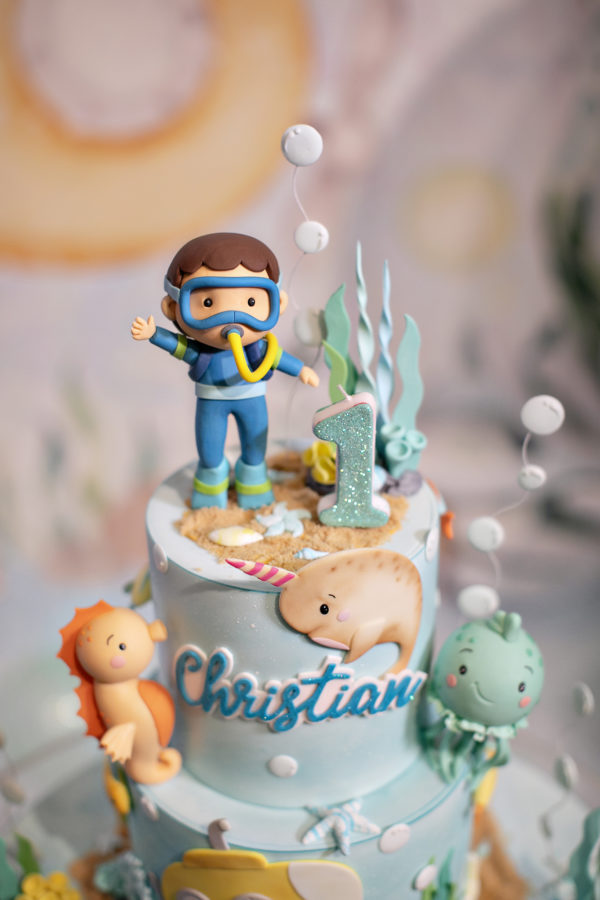 In the middle stood a 3 tiered baby blue cake, specially decorated with elements found within the deep blue sea that kids imagined there to be. As everyone gathered around, the candle was lighted, and sparks flew all around. Joined by the lovely voices of the emcees, guests sang the long awaited birthday song for Christian with delight, to celebrate his first year in this wonderful place called earth.
Memories were then captured through a photo taking session with the birthday boy, with all mummies, daddies and their beloved children, as well as guests which Andy and WanTing held equally close to their hearts. With the push of a button, the photographer caught smiles and laughter of those standing ahead of him, placing them into the jar of memories of that day.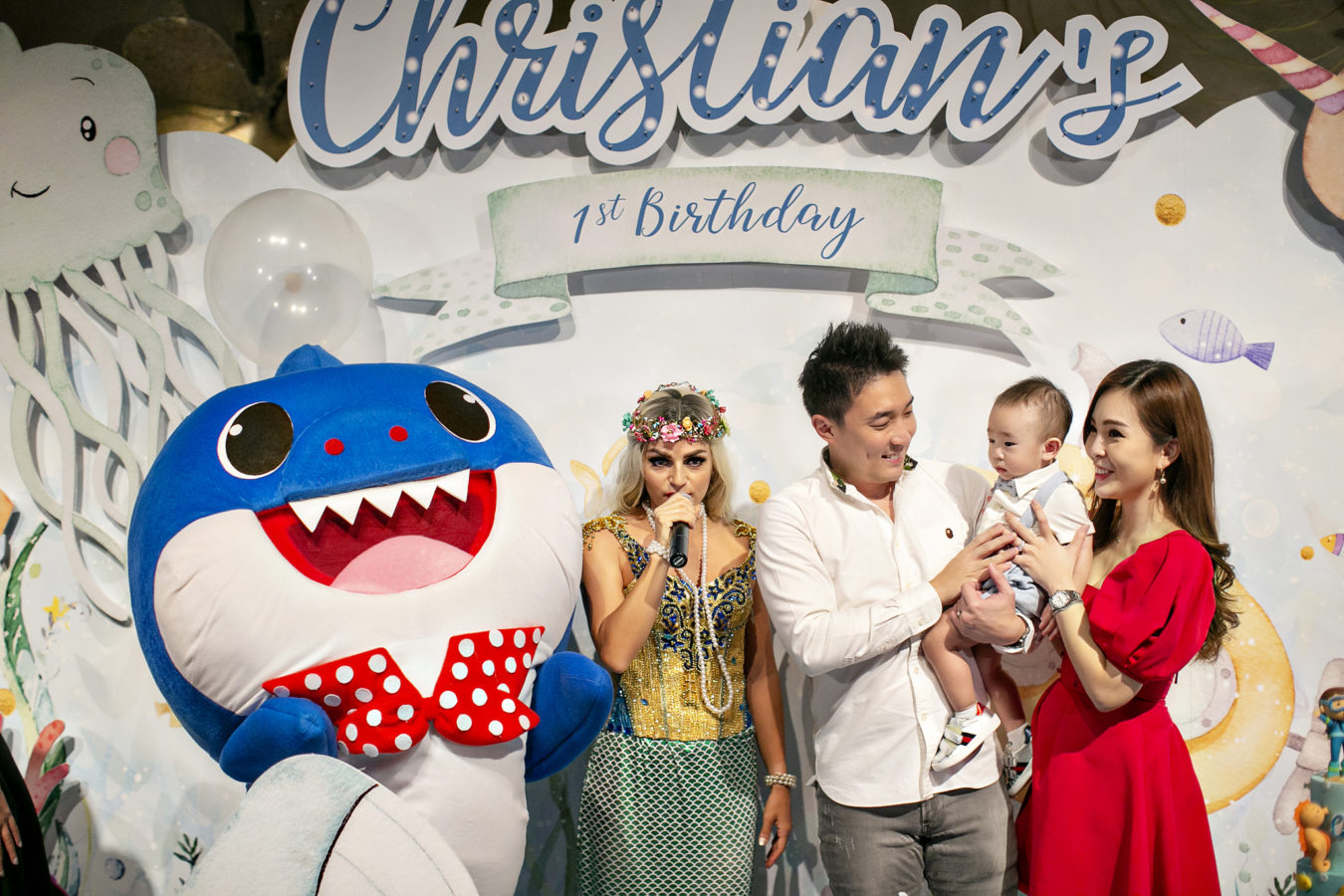 As much as we wish for little Christian to discover his talents and gifts as he grows, we can't help but wish to have a glimpse of what the future may potentially hold for him. We had a small Zhua Zhou (抓周) ceremony prepared for him. This is an Asian ritual held at a child's first birthday party where a set of objects that symbolize career choices or personality traits are laid out in front of him. The child's choice is used to forecast his future. Just for fun, you know!
The objects we laid out in front of Christian were a book, microphone, calligraphy pen, chicken, measuring tape, gold ingot, stethoscope, calculator and sword. Make a guess which item he will pick!
The calculator it is! He's going to be a banker just like his mummy, WanTing!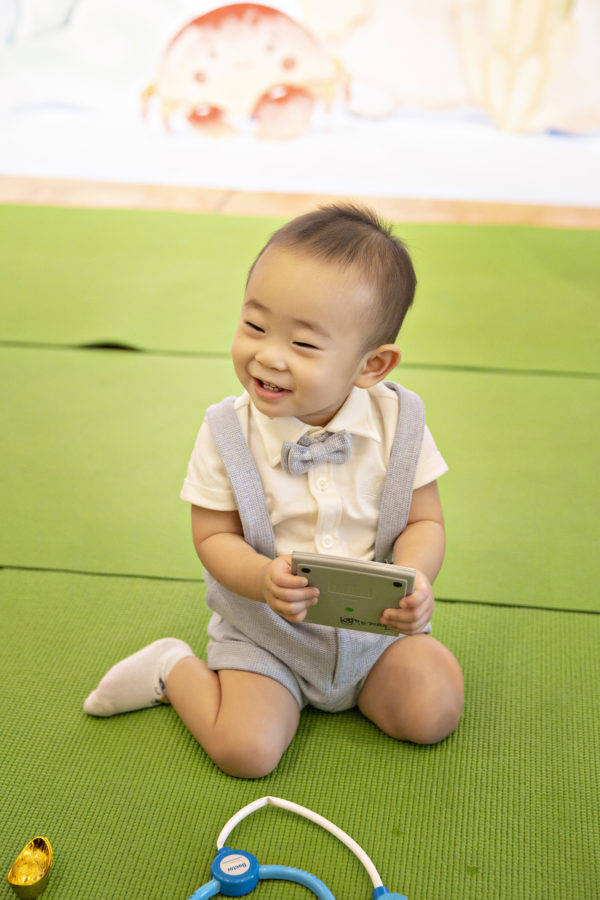 As the party came to an end, guests left the ballroom with not only happy bellies, but also unforgettable experiences. Christian made many new friends that afternoon, probably considered as his first few friends, but definitely many more to come in the future. Being able to witness Andy and WanTing meet so many significant milestones in their lives, we are truly happy for them, and we can't wait to witness so much more in the coming future, for them, and definitely for Christian as well.
Photo: Acapella Photography
Video: Chapters by Substance Films
Cake & Backdrop: Celebrate with Cake
Planning your event and keen to find out about our services? Fill out the form below and we'll be in touch!