Rubindra and Novita is a couple based in Jakarta, Indonesia. Together, they made the decision to hold their big day in sunny Singapore, within the grounds of a hotel designed and built with stunning colonial-based architectural structures, the Fullerton Bay Hotel.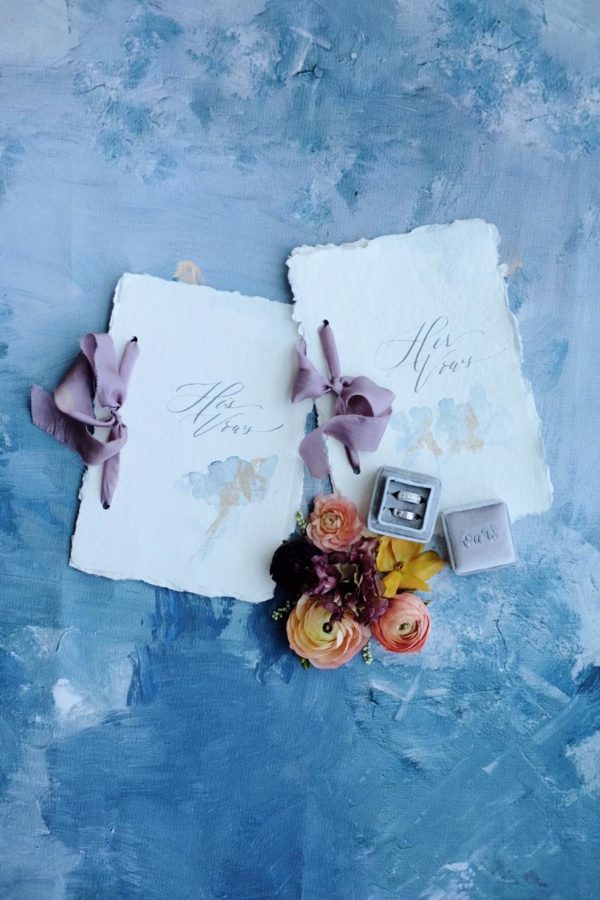 The extensiveness of the wedding decorations were so large of a scale that preparations begun as early as 11pm on the night before the 23rd – all-encompassing of the couple's likes and preferences, the entire set-up was in no doubt the couple's dreams turned into reality.
Fullerton Bay's unique layout allowed guests to locate the ballroom without much of a hassle, as everything could be seen from a glance upon the opening of the hotel's main entrance. Lush greenery filled every inch of the area in which the ceremony was to be taken place in – with the aisle lined with beautiful foliage leading up to an arch of wire-mesh and hanging flora, it allowed guests to not only become one with nature, but also one in witnessing the love Rubindra and Novita had for each other.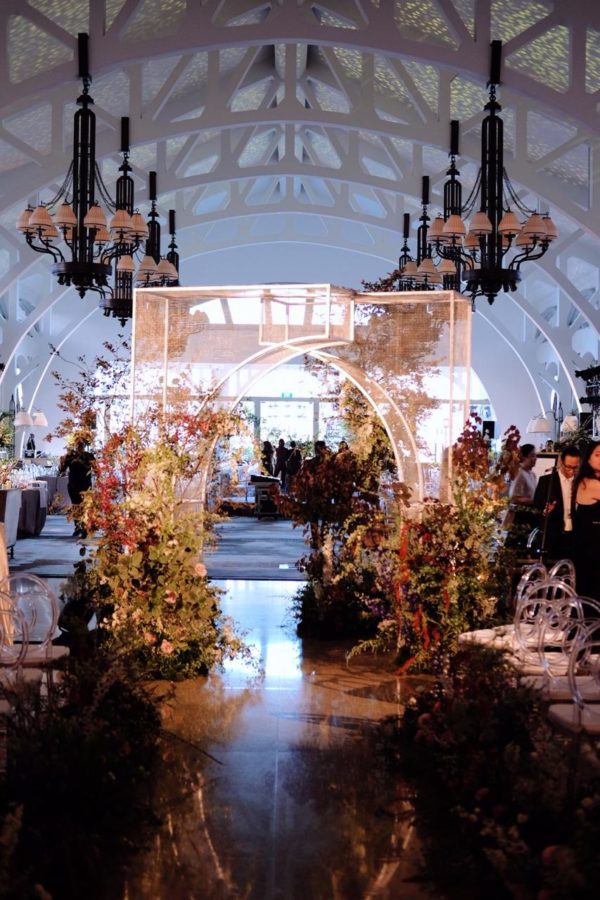 The night commenced with a ceremony to bless the couple's marriage, allowing them to officially become each other's spouse under the laws of Singapore. Walking through the aisle was Novita and her father, where each step taken brought them closer to a future together with Rubindra and his family. The ceremony was accompanied with a live acapella group as well as band, who performed tunes that moved the hearts of many present while various ceremonial rites were carried out.
During cocktail hours, guests were able to capture memories of the night not only through a vintage photobooth, but also by skilled sketch artists who drew portraits of guests present in their stunning dresses and suits. One by one, exquisite drawings were created down to each and every detail and perfected as if everything was part of a fairy tale.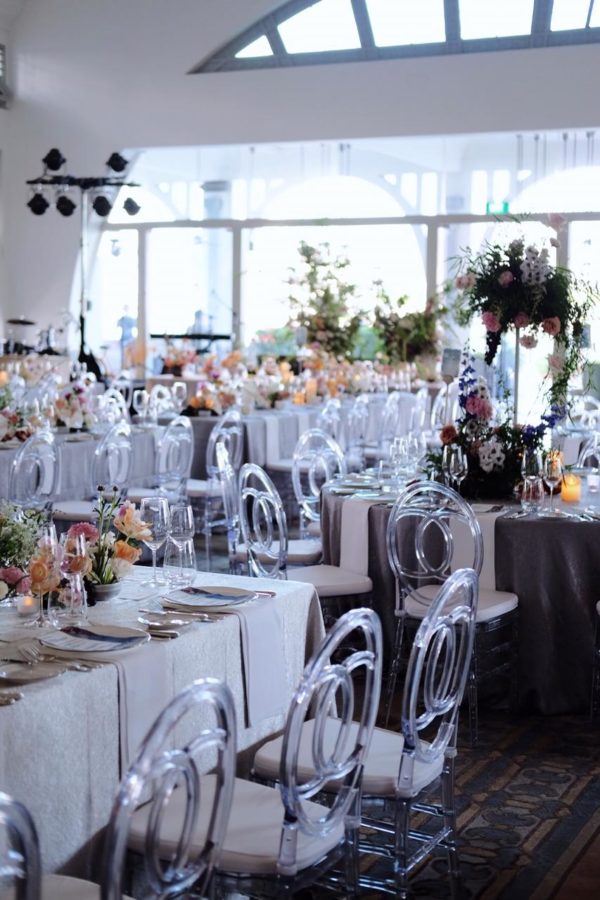 Over at the banquet area were a mix of long and round tables, all of which decorated with grey linens and short floral centrepieces prepared to welcome distinguished guests of the couple. Bringing the focus to the ballroom's ceiling, small little dots were created with the use of special lighting effects, as if a starry night was cast upon everyone present for a comfortable night ahead.
Dinner was kick-started by a professional emcee as well as live band from Jakarta, all of whom flew in to Singapore to be part of Rubindra and Novita's wedding. Their first march-in was accompanied by the lovely tune of "All you need Is love" by the live band, together with their parents and siblings who marched in before the couple took their first step towards the front. With the cutting of their wedding cake and some words to welcome everyone, dinner was served.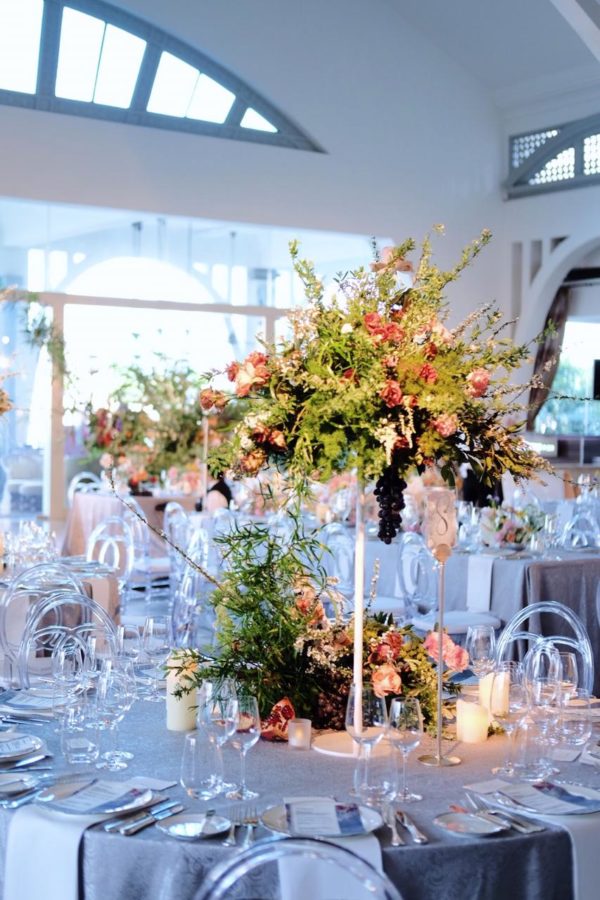 During the midst of dinner, speeches were given by 5 special groups of people. Though short, it brought much joy and laughter to the night as they spoke about the past they shared with the couple. It was one of the more intimate programmes of the night, as stories and words of blessing were shared from the bottom of the speaker's hearts.
Moving on from such a heart-warming session were the champagne popping and pouring session, followed by their nuptial toast as well as a speech from the groom. As spoken in Bahasa, we were unable to catch most of what he was saying. However, looking at the bride's face which was beaming with happiness and bliss, we could see the heartfelt emotions Rubindra managed to express within his short speech.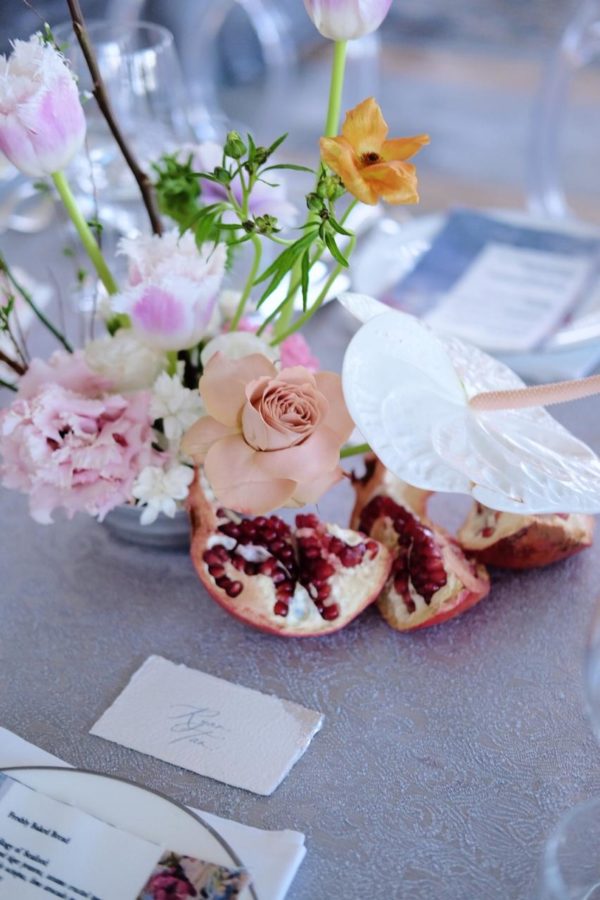 The night was made much more memorable with the inclusion of guest performances – 2 special friends made the choice to dedicate and sing multiple songs to express their genuine blessings for the couple, and must we say, they were pretty talented singers – the fact that they were able to sing along with the live band though not given the chance to rehearse beforehand definitely wow-ed the audience and us as well.
Holding your wedding in a foreign land is definitely not an easy task, but it would make your special day a much more impressive and thrilling one. If you are someone who wishes to hold a remarkable and out-of-the-ordinary wedding away from your home country, feel free to contact us using the form below – we'll be more than happy to make your dream come true!